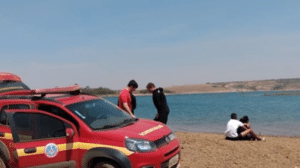 A 21-year-old woman drowned in the Paracatu River, in Brasilândia de Minas (MG), after trying to save her dog.
She reportedly entered the waters to take a picture when she was followed by the animal, which ended up being carried away by the current. The young woman decided to try to rescue him, but also ended up falling victim to the force of the water, unable to return to the shore. The occurrence was registered on Sunday (12) and confirmed to the UOL by the 2nd Military Fire Brigade (Paracatu).
Just this weekend, four people drowned in northwestern Minas Gerais, triggering the alert of rescuers, who issued a note urging tourists to be careful when visiting bathing areas. Two deaths were registered in the area covered by firefighters in Paracatu and two others in the area of ​​Unaí.
Among the recommendations are the choice of areas assisted by firefighters and lifeguards, attention to the level of pollution in the place, the company of other people while swimming, not drinking alcohol or heavy meals and taking care not to reach points away from the margins.