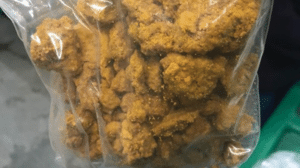 A drug never before registered in the scientific literature was seized during a routine check at Correios de Pinhais (PR). After identifying a suspicious package through the scanner, coming from the Netherlands, officials activated sniffing dogs that confirmed the presence of an unknown substance in a package of about 1.2 kg, which contained the compacted, yellowish solid matter.
After analysis in the laboratories of the Federal University of Paraná (UFPR), reports showed that the package contained a kind of synthetic cannabinoid, of a type never before described in the scientific literature.
The university has a project in partnership with the Federal Revenue Service in which it uses high and low resolution nuclear magnetic resonance (NMR) to analyze suspicious materials seized at the Post Office Distribution Center.
In a note released by the RFB there is no information on the identification of the sender and recipient of the package or on investigations into the drug. The agency only emphasizes that it hopes to fight international trafficking through a partnership with UFPR.