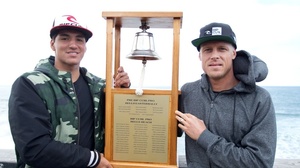 Gabriel Medina can now put himself on the same shelf as his biggest idol, Australian Mick Fanning. The Brazilian won the WSL Finals, today, in the United States, and equaled Fanning as a three-time World Surfing Tour champion. And better yet, it has isolated itself as the main name of the current surfing generation.
Medina won his first world title in 2014. The bi took a while, but came out in 2018. The trio almost came the following year, but Italo Ferreira prevented the new conquest of the surfer from Maresias. As the Circuit was not held in 2020 because of the coronavirus pandemic, disputes returned in the 2021 season, which began in December of last year.
Medina was dominant throughout the year, reached the WSL Finals as the leader of the world rankings and confirmed his favoritism with victories against Filipe Toledo, who once again stayed close.
Medina's trio is now another argument for Maresias surfer's supporters: he surpasses Hawaiian John John Florence, double champion in 2016 and 2017, and one of his main rivals in recent years.
Medina and John John were the biggest names to emerge in the sport over the last decade in a generation that came after legends like Kelly Slater and Fanning himself.
And there's more: the trichampionship makes Medina even more highlighted as a big name in Brazilian Storm, the Brazilian storm that made an impact on competitive surfing. Earlier in the day, he could have seen Italo equal him with two world titles, but Gabriel is now even more dominant as the greatest Brazilian champion on the World Tour.
There are five world titles in Brazil: three by Medina, one by Italo (2019) and one by Adriano de Souza (2015), Mineirinho.