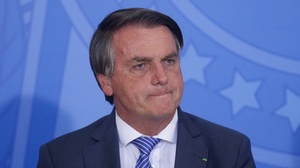 Over the past week, Jair Bolsonaro's popularity has been shaken in two regions considered to be the president's electoral strongholds.
In the South, the share of the population that considers the former captain's government bad or terrible has grown. In the Midwest, this segment practically doubled.
Qualitative surveys point to the escalation in the price of gasoline as the cause of the change in mood in the pockets of pockets. Yesterday, the National Petroleum Agency released a survey showing that the average price of fuel rose at stations for the sixth consecutive week. In some cities, the liter of gasoline is already over 7 reais.
The South and Midwest, together with the North, are the regions in which Bolsonaro tends to be better rated in surveys.
The South, the country's third electoral college, went through the two and a half years of government as the region most loyal to the former captain. In the Midwest, with intense agricultural activity, the rise in commodities had been giving Bolsonaro popularity ratings above the average. Now, high inflation threatens to erode this electoral heritage.
For the researcher Mauricio Moura, CEO of Instituto Ideia, until the end of the year, the prospects of the president in a scenario of political instability and high inflation are of a "stagnate population with a slow worsening".
The only segment in which Bolsonaro still has a chance to grow is that formed by the D and E classes that today consider their government to be regular and can benefit if the government finds resources to increase the value of Bolsa Família and create the Auxílio Brasil — resources that, not by chance, they have been ironically called by the president's allies the "election budget."