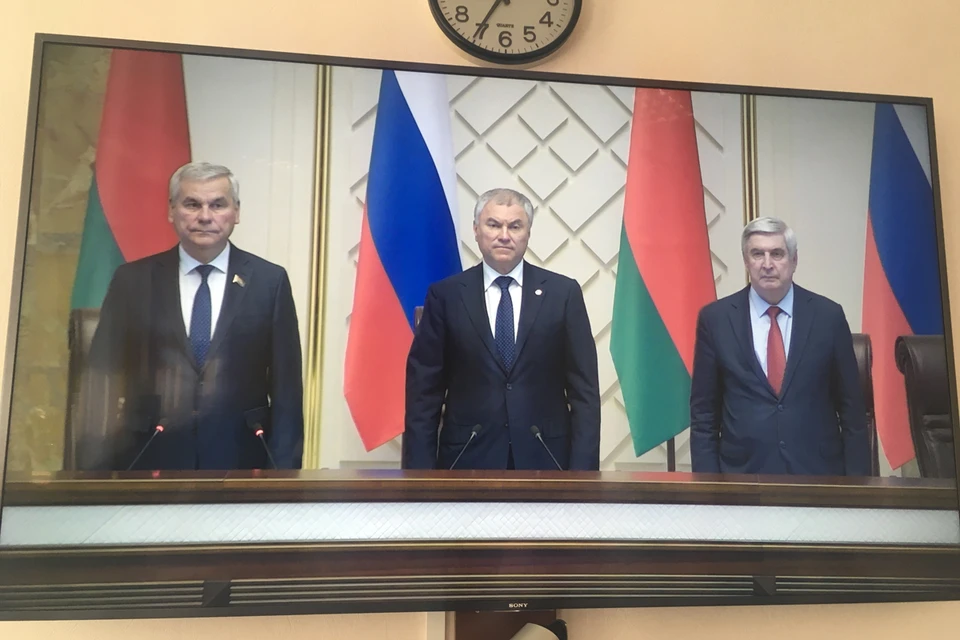 Viacheslav Volodin (center) during the performance of the Anthem of Russia in the building of the Belarusian Parliament
A photo: Edward CHESNOKOV
The US and its satellites continue to try to "cancel" our country. And here it is especially clear: who is really a friend, and who is a puppet of the West.
In this situation, on Monday morning, a delegation of 33 Russian senators and deputies, headed by the speaker Viacheslav Volodin arrived in Minsk. The goal is participation in the meeting of the Parliamentary Assembly of the Union of Russia and Belarus.
On the way to the building of the Belarusian National Assembly, the deputies of both countries laid mourning flowers at the Victory Monument on the square of the same name in the center of Minsk. After all, in two days – June 22, the Day of Memory and Sorrow.
The meeting itself is already the 62nd: Russia and Belarus have a rich history of building the Union State. But now he needs to be accelerated.e
Belarusian deputies together with Russian colleagues laid flowers at the Victory Monuments in Minsk
A photo: Edward CHESNOKOV
— The West is trying to squeeze us out of international parliamentary platforms, to drown out our voice. And this pressure will increase. Under these conditions, it is necessary to strengthen integration cooperation [между Белоруссией и Россией]— the speaker of the House of Representatives of the National Assembly of the Republic of Belarus opened the meeting — Vladimir Andreichenko.
Reports were made on the work of specialized commissions. And the Youth Chamber at the Parliamentary Assembly proposed to extend the Russian program of "tourist cashback" (compensation of part of the cost of a tour) also to the Republic of Belarus. Developing, so to speak, the practice of "allied travel".
As a result, for two hours, almost 60 deputies of both countries discussed the fight against Western sanctions, opposition to the rehabilitation of Nazism, the development of contacts with alternative economic centers in Asia and Africa, and other pressing issues. And most importantly, the need, within the framework of the Union State, to deal substantively with the harmonization of the legislation of Russia and Belarus – this issue was emphasized by Chairman Volodin:
"We are still at the beginning of the journey. Need to work. It is extremely important that the work of the new commissions has a result that can be assessed. Because it happens that "program concepts" are developed up to four years, and during this time they become obsolete," Vyacheslav Viktorovich noted, giving everyone an acceleration. — We have the opportunity to work during July and August. Politicians don't have holidays!
And now – 15:00 local time, less than five hours have passed since the arrival of our delegation in Minsk. And the deputies are already back on board the Russian Tu-214 liner – back to Moscow. There is no time to build up – that's why the schedule of the visit is so tight. So that, returning to Russia before the end of the working day, immediately continue the "union" construction.