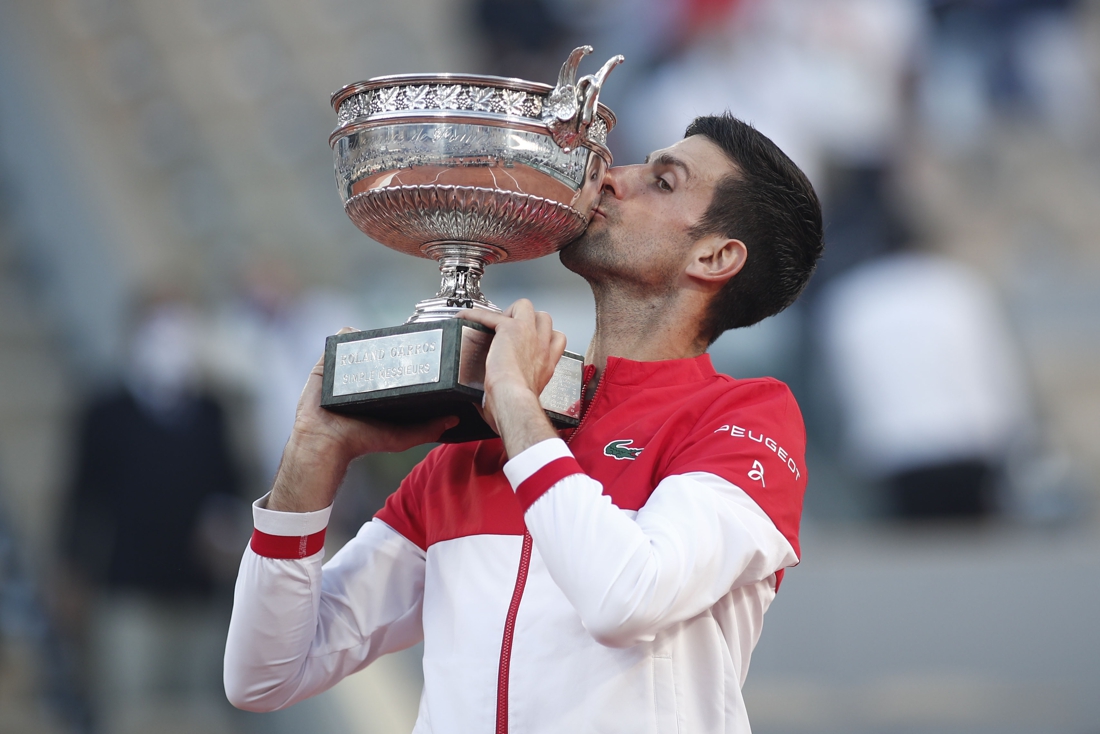 Novak Djokovic (ATP 1) has won Roland Garros for the second time in his career. The 34-year-old Serb fought himself against Stefanos Tsitipas (ATP 5) from two sets back to his 19th grand slam trophy: 6-7, 2-6, 6-3, 6-2, 6-4. Again the Big Three undefeated in majors finals against their heirs to the throne. In the historic ranking of grand slam victories, the Djokovic comes in on one copy of Rafael Nadal and Roger Federer.
It took Tsitsipas seven minutes and three aces to win the opening game. It set the tone for a wonderful first set, in which both players had their chances but the Greek eventually won. How good was Djokovic nevertheless? He won all the points in his first three serve games. But Tsitsipas especially kept himself in the race with his superior serve (seven aces in set 1): 5-5.
Only in the final phase of a first set that lived up to all its promises, Djokovic showed moments of weakness, which gave his opponent a first set ball. Tsitsipas missed the opportunity. This spectacle deserved a tiebreak, this spectacle got a tiebreak. Tsitsipas went out 4-0, Djokovic fought back to 6-5 and a set ball. He also missed the opportunity. The number five in the world then pocketed that tiebreak: 6-8. How close was the battle? 42 points vs 43.
Style break Stijl
Set 2 was a complete break in style with what came before. Djokovic immediately lost his serve and Tsitsipas took control of the match. As the match progressed, Djokovic's body language – dull eyes, slumped shoulders – showed more and more resignation. He blasted balls far into the set, constantly making the wrong choices and no longer able to find his usual mobility. As equal as the first set was, so one-sided number 2. Tsitsipas walked without much effort to 2-6 and a 0-2 lead.
Was the 18-time grand slam primus wrecked by the heat and sun? Was that legendary semi-final against Rafael Nadal on Friday? He went to the dressing room to put on a fresh shirt, supplemented with physical and mental rejuvenation. Could that break save him against an opponent of that level?
The opening words of set 3 already suggested that he had passed his most difficult moments (2-1). That he then went through the Greek serve was an additional clue: 3-1 and 4-1. Intensity and level were back again. At 5-3, Djokovic was able to serve for the set. He did that with verve: 6-3 and 1-2.
physiotherapist
The catch-up race had begun. This time, Tsitsipas, who had shown increasing signs of frustration, sought respite in the dressing room and with the physiotherapist. But Djokovic continued his demolition and promptly went through his opponent's service twice in set 4: 3-0. The delicious drop shot he did that said it all: the Imperial athlete had risen again and a decisive set was inevitable.
More than three hours had passed as le tout Paris braced for the decider. And they got the apotheosis they had hoped for. After another minute of game, Djokovic broke his opponent's serve: 3-1 and 4-2. The most accomplished envoy of the Next Gen cracked and cried in despair to all the Greek gods. Tsitsipas struggled against (5-4), but it didn't help. Despite the 12-year age difference, Djokovic was mentally and physically the freshest after more than four hours of tennis.
After the Australian Open, Djokovic also wins the second grand slam of 2021. Roger Federer and Rafael Nadal know that their top position in the historical ranking is increasingly faltering. One more on the Serbian side and they share the lead with their 20 majors.
.
Disclaimer: If you need to update/edit/remove this news or article then please contact our support team
Learn more