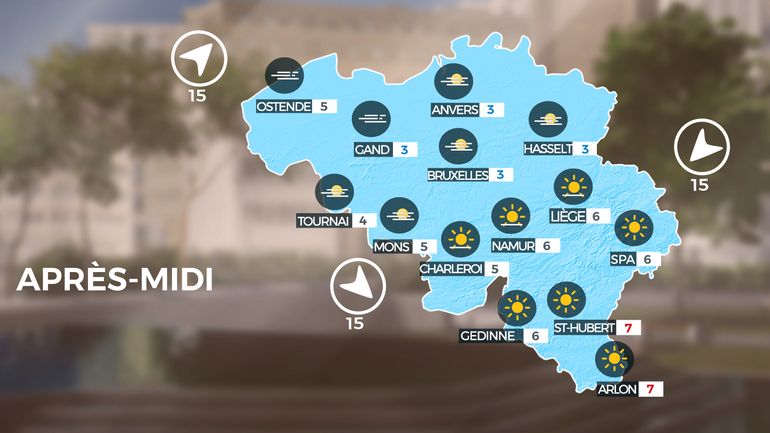 The layer of low clouds will have difficulty dissipating north of the Sambre-et-Meuse furrow during the afternoon. On the other hand, the weather will be fully sunny in the rest of the territory. The highest temperatures will be reached in sunny regions, that is to say south of the Sambre-et-Meuse furrow, which is quite unusual. The maxima will reach 5 ° C at the Signal de Botrange but only 3 ° C in Brussels. We expect 5 to 6 ° C along the Sambre-et-Meuse furrow, 7 ° C near Saint-Hubert and Virton, but only 3 to 5 ° C in Flanders.
In the course of the night, the fogs will extend to all the regions and the frost will always be frequent with minima which will fall between -2 and + 2 ° C.
tomorrow, the morning will take place under low clouds and fog. But they should dissipate during the day in favor of clearer skies along the French border and up to the Brussels region. The maximums will be within the seasonal norms, between 2 and 6 ° C.
Return of grayer and more humid weather everywhere Sunday, with a few drops possible. Maximum of 1 to 8 ° C.
Monday, we still expect a lot of clouds in the morning. They are expected to evacuate to the southeast of the country over the hours, but that remains to be confirmed. Temperatures will range from 2 to 8 ° C in the afternoon.