HORROR pictures from the Tiger Woods crash scene show his smashed car after it flipped over near some trees.
The 45-year-old was rushed to surgery after being cut out of the wreck with the "jaws of life" in California.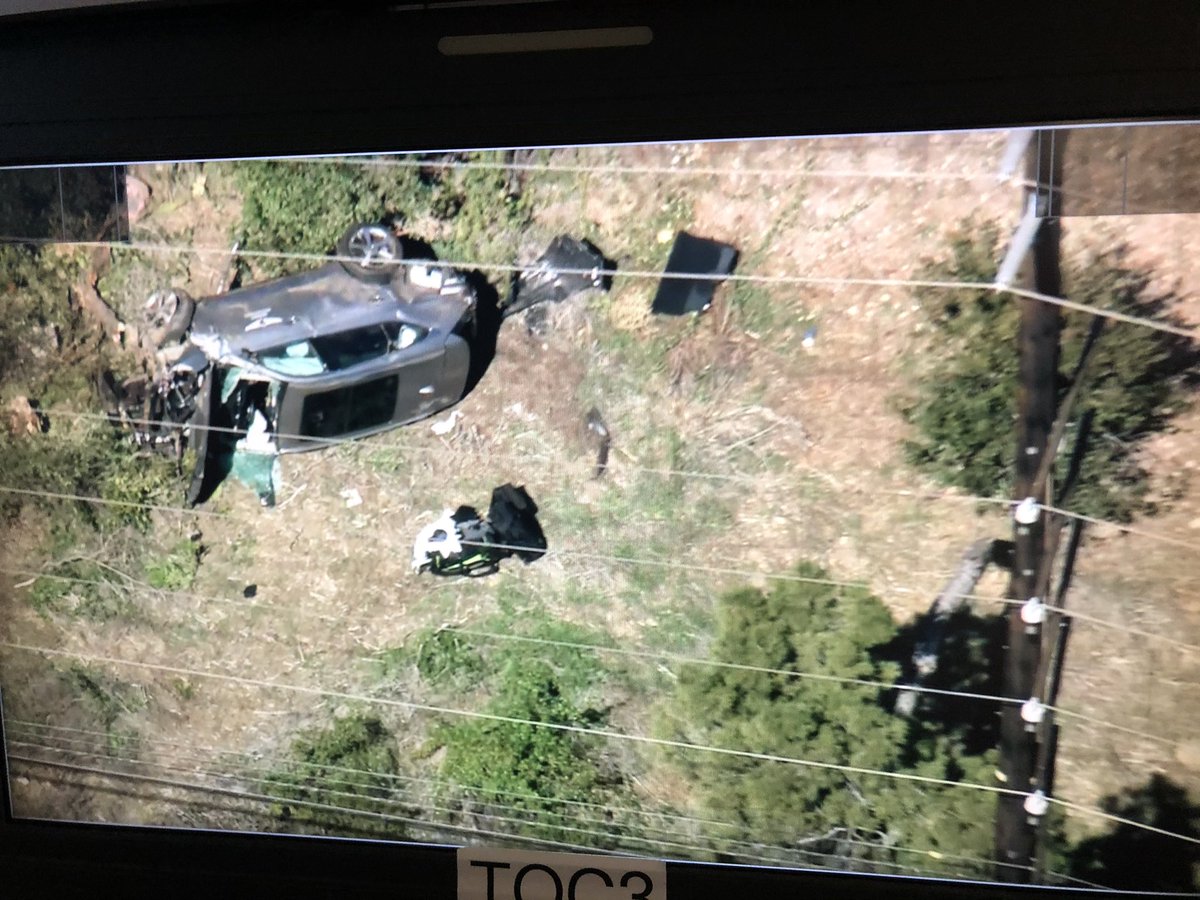 The Los Angeles County Sheriffs department confirmed that Woods was the driver of a vehicle involved in a roll-over traffic collision just after 7am local time.
Fire crews had to lift him from the vehicle with the "jaws of life" before Woods was rushed to hospital by paramedics.
According to the department, the vehicle sustained "major damage".
Footage from the scene showed a car on its side with the front of the vehicle crushed.
It appeared to have crashed in a grassy area surrounded by trees, not on a road.
The star's agent, Mark Steinberg, said in a statement: "Tiger Woods was in a single-car accident this morning in California where he suffered multiple leg injuries.
"He is currently in surgery and we thank you for your privacy and support."
Woods was in the area for the Genesis Invitational golf tournament at the Riviera Country Club in the Pacific Palisades before the incident happened.
Earlier this week, he posed for pictures with stars such as David Spade and Dwyane Wade.
He also made his first public appearance just days ago after undergoing back surgery.
Woods provided an update about his condition with CBS during the final round of the Genesis Invitational.
"I'm feeling fine, little bit stiff," Woods said. "Have one more MRI scheduled to see if the annulus has scarred over finally, and then I can start doing more activities.
"Still in the gym, still doing the mundane stuff that you have to do for rehab, the little things before you can start gravitating towards something a little more."
When being asked what he has done golf-wise since undergoing the major surgery, Woods joked "I've lengthened my putter."
"I don't have to bend over as far. I've gone to the same length as my sand wedge."
GOLF STAR SMASH
Tiger Woods in surgery after being cut out of horror car smash
GUT PUNCH
Everything to know about the stock market today
OH JOE
Joe Biden accused of accidentally saying the N-word after fumbling during speech
CRASH INFERNO
Texas train collides with 18-wheeler triggering huge fireball explosion
SNOW WHAT I MEAN?
Conspiracy theory in Texas claims snow is FAKE and sent by Bill Gates