Friday night 'Home' ended on a romantic note and a gruesome cliffhanger. After all, Marianne wants to make amends with Leo after saying no to his marriage proposal. There is less good news for Kobe, he is losing his brand new fluffy company.
Leo (Walter Moeremans) had to cope with another blow on Wednesday Home. After all, Marianne (Leah Thys) had told him 'no' to his proposal to marry him. Which had caused the necessary anger and resentment in the household. But it is Marianne, and she has now realized what she risks losing. Together with Tamara (Tine Priem) and Nancy (An Pira) she has come up with a plan to get Leo to the Withoeve.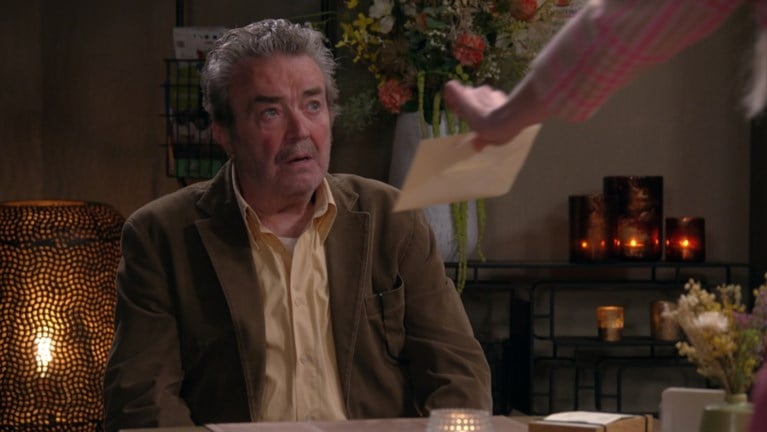 Tamara lures him there with an excuse: she wants to spend an evening wellness, but was still looking for a driver. When he arrives at De Withoeve, she doesn't look ready to go. She asks him to sit down for a moment. And Leo immediately realizes that it has something to do with Marianne. "Could she be here? I don't want to hear from her or any excuses. Not after what she did to me. " But he sits down anyway and receives a letter from Tamara, which Marianne has written for him. In it, she tells him that he makes her happy and that he is the sweetest grouch he knows. After which she concludes with meaningful words. She says yes! She wants to marry me. In the presence of your family, but also mine. But anyway, why does she do that by letter? "
It turns out she is on her way to the airport, to leave for Cape Verde. After all, she wants to convince her daughter An – who fled there after the murder of Xander – to be present at the wedding. Leo then heads for Nancy's taxi, hoping to be in the airport on time with his ring to propose to Marianne again.
Letter by corona
So a nice moment at Home, but a question still arises: Why didn't Marianne come to Leo to tell her story herself and do it with a letter? Leah Thys was already out with corona at the time of shooting. The screenwriters had to change the script slightly and the apologies were not made in person, but by letter.
Although not everything was in peace and quiet Home Friday evening. Now that Dries (Yemi Oduwale) has accepted Reinhilde's legacy, he also discovers a letter from her addressed to the police, which ends up with Dieter (Raf Jansen) and Tim (Jeroen Lenaerts), which shows that Jacques (Peter Van De Velde) is guilty five murders, including his own wife. The episode ends on a cliffhanger. Kobe (Sid Van Oerle) had found excellent company in Vondel, but when he watches in the morning, the dog lies exceptionally still. To his dismay is Vondel dead Could Jacques have also been responsible for this and then not be dead, or is it a coincidence?
No success in marriage
It will be her fourth marriage for the character Marianne. She made her appearance as a wife at the start of the popular soap Walter De Decker. Even though they were already separated, they were still married and have two children: Tom and Ann. They try to give their marriage a second chance after his relationship with Rosa ends. However, Walter dies of a brain haemorrhage in the second season.
In the twelfth season of Home meet Marianne doctor Geert Smeekens. Only it doesn't click between the two. But that turns. When Geert gets into a relationship with her sister Claire, Marianne is jealous. Only in season fourteen the two become a couple when she tells him she has feelings for him. The season later, the two tie the knot. Marianne seems to end up screwing up when she starts an affair with David, Mayra's father. Geert wants a divorce when he finds out. And even though she tries to make him jealous, he doesn't want to deviate from that idea. It is only when the notorious lawyer Ivo Courtois wants to marry Marianne through blackmail that Geert and Marianne reconcile.
In the twentieth season, things finally go wrong, when Geert is accused of kidnapping, but Marianne does not believe in his innocence. He remarries Hélène, Dr. Judith's ex-mother-in-law. Marianne accuses him of assault and it culminates in a lawsuit, which she loses. She has to pay 160,000 euros in compensation to Geert. But then she finds out that Hélène is working with a certain Henri, with whom she has a secret relationship and is about to miss out on 160,000 euros. She wants to warn Geert, but it ends in a drama: Geert is lying dead in the doctor's office. Everyone thinks that Marianne is to blame, but it is Hélène who murdered Geert.
In between all those events, Marianne meets her third husband: WilliamDegreef. Only he turns out to be a smooth eel, which Tom and Ann quickly realize. He even tries to kill Marianne, but she is saved by Tom and Judith. It means the end of the marriage. When he turns out to have murdered Hélène, he ends up behind bars.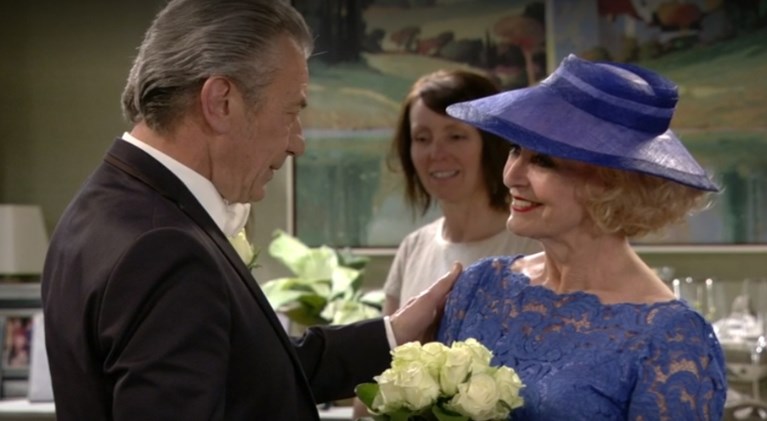 Hopefully her marriage to Leo will last longer.
'Home', One, 8.10 p.m.
.
Disclaimer: If you need to update/edit/remove this news or article then please contact our support team
Learn more