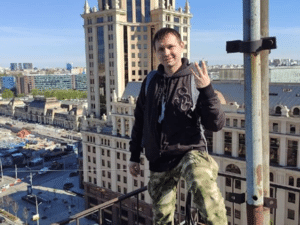 Dmitry Beshentsev, 34 years old, also known as Dima Vert, a youtuber russian urban explorer, died after falling from an abandoned building while recording a video.
Dima fell after climbing a fire escape in an abandoned building in the Russian capital, Moscow, on 10 September.
The popular youtuber, who specializes in filming abandoned buildings on his 'Beam of the Inquisition' channel, was with his two friends when he died. They managed to climb to the roof of the building to take pictures, but the fire escape gave way while Beshentsev was still on it.
The abandoned building in which he died, according to the Daily Star, dates back to 1971 and is opposite an old garage. The construction was supposed to be under renovation, but the works had been stopped for a long time.
It is unclear whether local authorities are continuing to investigate the incident.
In one of his latest videos, Beshentsev was filmed taking a boat trip along one of Moscow's abandoned water-filled tunnels.